What exactly is it that you do in an Escape Room?
When we welcome new visitors we like to ask whether or not they have experience with escape rooms. The answers vary a great deal; some have done dozens of games around the world and count it as a special interest, but most are still beginners that have only just recently been made aware of this fun activity. That makes it extra fun for us who work as game masters, since we then get to spend the next hour watching people get better at something they had no idea existed before they came here.
So what is an escape game? What can be expected when you visit us?
A mysterious beginning
The first thing that happens when you arrive is that you get to leave your jackets in the wardrobe area. Take this opportunity to go to the bathroom, and then take a cup of coffee or tea and relax in the lobby. Perhaps there is a team name to agree on, or why not take a minute to discuss tactics? Though perhaps you'll be too distracted by the imposing vault door, and the exciting things that are sure to be hidden behind it... If you arrive early you might catch a glimpse of earlier teams exiting the vault, giggling and secretive and giving you furtive looks. They won't reveal anything to you (we ask them very nicely not to) but if they're in a playful mood they might give you information that is just straight up wrong. Then it's time for a short briefing.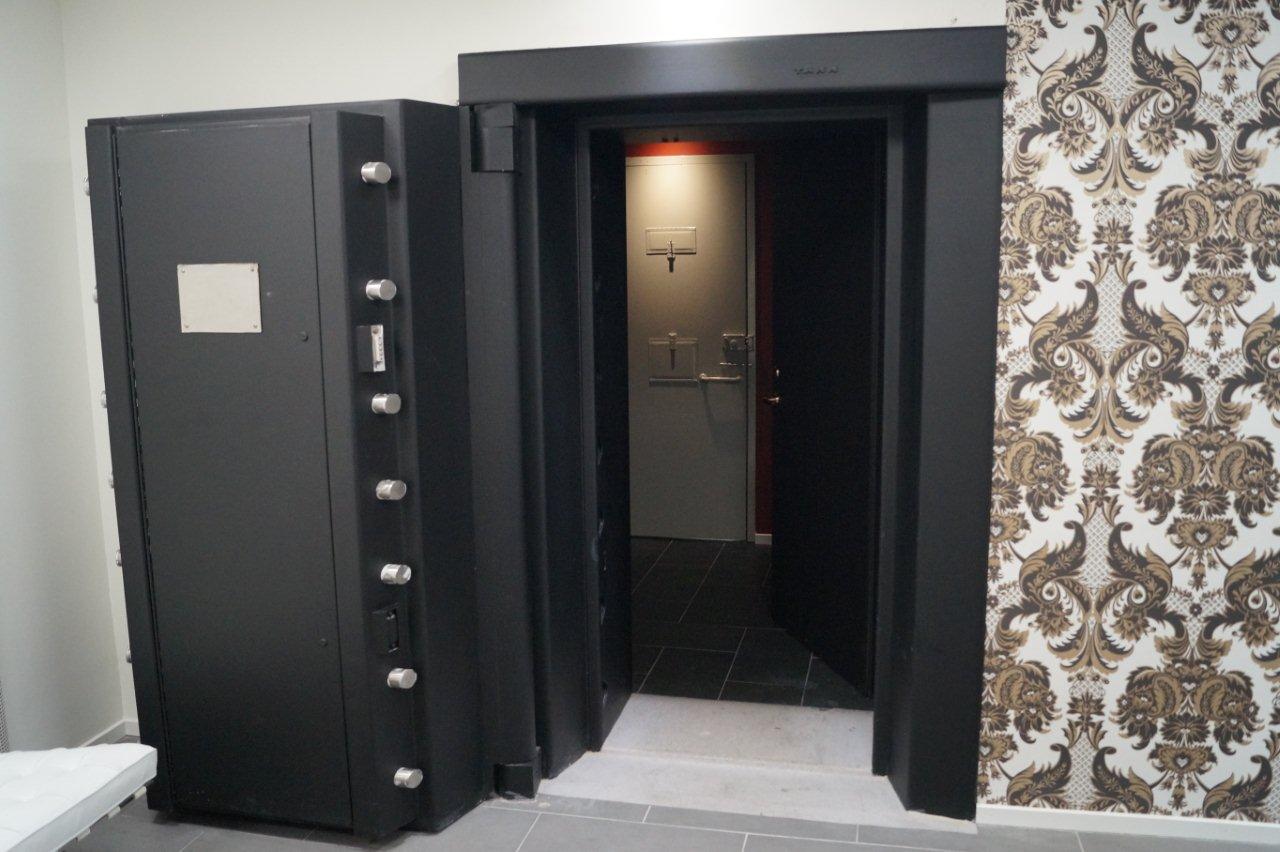 A different activity
"You are here in order to get out", we usually say.
Your mission, which we hope you will accept, is to fulfil the assignment we give you. Perhaps it's something you need to find. Perhaps you need to stop a national disaster from happening. Perhaps all you need to do is to rob a bank. It all depends on which scenario sounds the most fun. What you know is that you have an hour to complete your task, or something terrible is sure to happen. You might have a thing or two that will help you in case you get stuck, and there is the lingering feeling that we're keeping an eye on you, but suddenly you are alone in a mysterious room.
It looks a bit empty. You're confused. Are you really spending an hour in here? But you'd better start searching, because time is ticking. An hour goes by fast. Can everything in the room be trusted? How well do you really know each other? Will any of you take charge, or will everyone go their own way? Who finds the first clue? Let's do this!
An experience above the others
And then you come stumbling out, an hour later. What the heck happened in there? Where did time go? No way was that an hour. How can there have been five minutes left suddenly, when there were forty just a minute ago?
Now you get the chance to ask the questions that might have formed during the past sixty minutes. How were you supposed to think during that puzzle? Was there a point to that detail we noticed? You all had theories, but who solved it? And how did the teamwork go, did you listen to each other, did you notice what the others found? We figure out the answers together and then you will of course get a picture taken inside the room as a memento. Then it's time to leave.
There are people outside in the lobby. They look a little nervous. But you are smiling, to each other and to them. You know things that they don't know, after all, about the room and about yourselves.
If you're in a playful mood you might tell them that the tigers in there are extra hungry today, but that's up to you.
Sound fun? Book a room with us today!